Thoughts on a Friday:
1. Last night, I made the mistake of watching the show,
Extreme Makeover
. Gag me with a spoon! It would have been fine and interesting, but the girl who was made over – every blessed time the camera was on her she would cry. I think she even cried during the operation.
2. Then, why is it, every time the movie, PCU, comes on, I watch it. It's a terrible movie but I still watch it.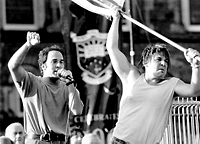 3. The ex-Cowboy football player who was sentenced to 14 years for the hit and run earlier this year – is OUT ON BAIL pending his appeal AND he may play football!! Put this character in jail for goodness sake.
4. I have now a Cpap machine to help me breathe through the night and not snore. It's a mask – but to hold the mask in place I have these fasteners (see picture) that go around my head. Then the doctor wants me to wear a white strap around my head to hold my jaw shut (see picture below). The sleep is great but needless to say it is going to take a while to get use to the all the paraphernalia on my head.
My breathing apparatus:


My bandage type thing for my jaw:

Good night.
5. I have gotten access to the United States 1930 census with a search feature --
Ancestry
-- to look up all my relatives to fill in my genealogy. But I have been spending more time looking up all the rich and famous particularly movie stars, such as Charlie Chaplin, Douglas Fairbanks, Laurel and Hardy, Jean Harlow. Very interesting stuff. The one who had the most expensive house I have found so far was Harold Lloyd.
6. Speaking of the weather:
Think it's hot? Why, back in the day ...
Triple digits, limited air conditioning, exploding windows put newfangled heat wave to shame -
WAIT! 1980 was hotter! Remember 114 degree days? The weather in general has gotten worse since 1952 but at least we have air conditioning.

Quoted From:
06:52 AM CDT on Tuesday, August 19, 2003
By ALINE McKENZIE / The Dallas Morning News
"Block ice was very popular. So were pools, lakes and air-conditioned theaters.
In August of 1952 – the hottest August on record in the Dallas area – people used any means they could to cool down.
[We moved here in 1953 – but it was still hot.]
Temperatures topped 100 degrees for 25 days straight, twice reaching 108 degrees. Even the low temperatures set a record, at an average of 78.7 degrees. Ten people died from the heat.
The average high temperature in August 1952 was 103.5. An average August high is 94.8 degrees.
. . .
Cool plans – Central air conditioning in homes was still a novelty. The Carrier company, an air-conditioner manufacturer, said that installing central air conditioning when a house is built was so much less expensive than retrofitting a house that it can offset the cost of electricity. An owner must "get away from the inhibitions of the past," though. The company president predicted, accurately, that this would cut down on windows, porches and breezeways because people would be staying indoors with the windows closed.
And that's what it did unfortunately]
To beg or not to beg – The "drouth" conditions throughout Texas led to a debate on whether to ask for federal loans or grants by having the state declared a disaster area. An editorial supported the idea of resisting big government by not accepting subsidies because subsidies drive up taxes. However, the writer also acknowledged that resisting subsidies just meant that the resisters were paying for others, while not reaping any benefits.
"We can't ask for federal aid. We're strictly States' Righters. Down to our last dollar," Max Patterson wrote in a letter to the editor.
[We need him in Austin today ]
"