Crozier Tech Gone?
It seems that Dallas is set on wanting to build another parking lot by tearing down old Crozier Tech High School Building on Bryan. This school was built in the early 1900s and could easily be adapted for other use than a parking lot or whatever.
Central High School in Oklahoma City was not torn and adapted into part of Bell Telephone.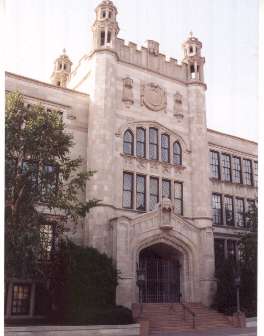 Another example is in Albuquerque per the letter to the Dallas Morning News:
"Crozier Tech
Thank you for your warm, fuzzy editorial expressing need to preserve what little is left of Dallas' historic building stock.
The city needs now more than ever to prohibit wholesale bulldozing of precious old buildings by greedy salesmen coming into town with the explicit intent of clearing land, reselling it for "development" and moving on.
The building, originally known as Dallas Technical High School, is imminently suitable for adaptive reuse as a performing arts center, and also for in-town condo lofts as was done with exceptional success in the old Albuquerque High and possibly other reuse projects, any of which can be done for a fraction of the cost the current owners have claimed in court.
Thanks again for an excellent editorial.
Charlotte Schofield, DalTech Alumni Association, Dallas, Texas"
On the
Dallas City Hall
website, they have:
"Also known as Dallas High School. The complex consists of five free standing buildings. The original 3 ½ style Classical Revival building was constructed in 1907. This is the oldest remaining Dallas High School."
With this picture:
-------------------
In other news:
"City says no to downtown ranch's fuel stop buffaloes
Owner still hopes to hook visitors on longhorns and land
06/21/2003
By LAURA GRIFFIN / The Dallas Morning News
The buffalo will no longer roam alongside the longhorns and geese at the city's only urban ranch built by a Dallas entrepreneur, but he's still hoping he'll continue lassoing his share of visitors.
Tourists in downtown Dallas have for years taken a break from the gleaming towers for a taste of the Texas of legend, posing for photos next to a bronze stampede of longhorns near City Hall.
For the last 2 ½ years, John Benda has kept seven longhorn cattle, two buffaloes and some geese behind his Fuel City gas station and convenience store.
By July 4, he'll have to find a new home for the buffaloes, deemed a restricted animal by the city.
Mr. Benda said the buffaloes will be moved to a location with exotic animals about 50 miles away. "I'm so attached to them. They are a male and female about a year old," said Mr. Benda, who plans to visit them at their new home."
--------------------------
I would say this was definitely murder.
"Mallard found guilty in windshield death case
06/26/2003
Associated Press
FORT WORTH, Texas - A former nurse's aide was found guilty of murder Thursday for hitting a homeless man on a highway and driving home and parking in her garage with his mangled body still lodged in the windshield.
Jurors deliberated less than two hours in the case of Chante Jawan Mallard, 27, who faces life in prison on the conviction.
The sentencing phase was to start in the afternoon. Mallard also faces up to 10 years for tampering with evidence, a charge to which she pleaded guilty to earlier this week.
Chante Mallard enters court today in Fort Worth.
During closing arguments, Mallard's attorney, Jeff Kearney, told jurors that the death of Gregory Biggs, 37, was an accident, not murder. >
I haven't seen them!
Police sending signal to those who run on red
Stop at lights or we'll stop you, Dallas officers warn
06/26/2003
By IAN McCANNStaff Writer / The Dallas Morning News
Traffic officers in Dallas will be seeing red the rest of the year as they focus on stoplights and those who run them.
On Wednesday afternoon, officers began stepped-up enforcement at Central Expressway and Haskell Avenue, which police say is the worst in Dallas for red-light running. Within two hours, police had issued 34 tickets.
"All too often in Dallas, when citizens pull up to a light and it turns green, they have to wait five seconds and then hold their breath to see if anybody comes through the intersection," said Police Chief Terrell Bolton.
The red-light patrols will work in tandem with the department's stepped-up enforcement of seat belt laws and against speeding in school zones and on highways.
The department plans to monitor 90 intersections – 15 in each of Dallas' six patrol divisions – that were selected because of the frequency of accidents, number of red-light runners, traffic volumes and suggestions by residents and officers.
Traffic teams will be staking out the 10 worst intersections on Wednesdays, Lt. Julian Bernal said.