News of the Weekend and the Week.
Our building is under a bomb threat right now. Most everybody, but I stayed. Most of these are fake.
Boom!
Anyway, I went downstairs to get an egg mcmuffin and there were policemen everywhere – not doing anything – just standing around.
It is very quiet up right now. I might have left if the department stores were open at this time of the day, but they aren't so I'll just ride it out.
Ah! I see the Dallas Library is providing new space for the street people:
"Downtown library overhaul planned
Fund raising under way for $1.5 million face-lift of researchers' 5th floor
10:20 PM CST on Sunday, November 16, 2003
By KATIE MENZER / The Dallas Morning News
Becky Cooke had hoped for something gruesome for her project on human diseases, but classmates grabbed all the exciting afflictions.
"We all wanted something deadly," the Hockaday School senior said last week as she did research at the J. Erik Jonsson Central Library in Dallas. "I ended up getting bacterial meningitis."
The downtown library's fifth floor – one of the library's most popular because of its resources for researchers such as Becky – is scheduled to undergo a $1.5 million overhaul that will include creating a videoconferencing equipment room, more space for public use and brighter lighting. "
You know – I have dissed the Dallas police in the past, but last weekend in the hostage situation there was this picture.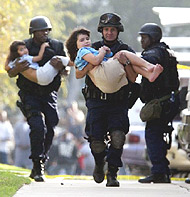 The press only reports on the bad apples – there should be more news on the good and brave apples!
AND DON'T FORGET!
"
OPUS MAKES A COMEBACK
05:13 PM CST on Friday, November 14, 2003
By MIKE PETERS / The Dallas Morning News
Meet the New Bird. Is he the same as the Old Bird – the flightless seafowl we knew and loved in the '80s and early '90s?
We'll start finding out next weekend, when a new comic strip, Opus , debuts in The Dallas Morning News and newspapers nationwide. The sweetly naive penguin was a pop-culture phenomenon at the heart of Berkeley Breathed's Bloom County comic strip (and briefly its sequel, Outland). From Bloom County, Opus reached 70 million readers in 1,300 newspapers worldwide, spinning off sales of 6 million books. "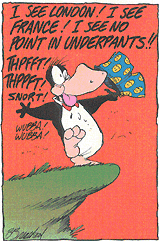 There, there's a picture of the horrible CPAP mask I have to wear at night because of sleep apnea: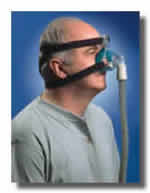 Well, it's 9:48; at 10:00 the bomb threat will be gone but we will still be under a bomb watch. Another day in Dallas.