BILL THE CAT RETURNS!!!
"
Opus Returns To The Funny Pages
WASHINGTON, Sept. 9, 2003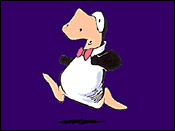 (AP) Cartoonist Berkeley Breathed is resurrecting Opus the penguin from the 1980s comic strip "Bloom County" for a new series to appear in Sunday comics this November.
The Sunday-only strip, to be called "Opus," begins Nov. 23, the Washington Post reported Tuesday. It will be syndicated by The Washington Post Writers Group.
A 1987 Pulitzer Prize-winner for editorial cartooning, Breathed stopped drawing the daily "Bloom County" in 1989 when it was running in nearly 1,300 papers. He began a Sunday strip, "Outland," with many of the same characters - including the penguin's hairball-hacking sidekick, Bill the cat - but quit that in 1995. "