NOVEMBER'S HUNK OF THE MONTH
IS------------------------->
GEORGE STRAIT
After seeing him in person in Dallas with Quida, Ed, along with Cousin Fern and Fred of Lubbock,
we just knew he had to be IT this month!
Of course, we can't go on without a picture of him and
ALAN JACKSON(!)
at the 2000 CMT Awards Show.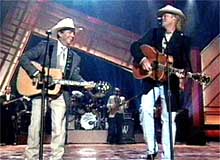 And yes, those wranglers! Here is a site devoted to photos of
wranglers tags
.
It is the George Strait Museum of Wrangler Fineness. Great Site - You Go Girl!
.
Who will be the hunk next month???????